Physical Therapy in Rowland Heights
The goal of physical therapy, which is also referred to as corrective exercises and physical rehabilitation, is to improve the movement of your joints and strengthen your injured or weak muscles. Our office in Rowland Heights offers physical therapy so that you can recover faster from your injuries, better control your chronic pain and maintain your active lifestyle and independence.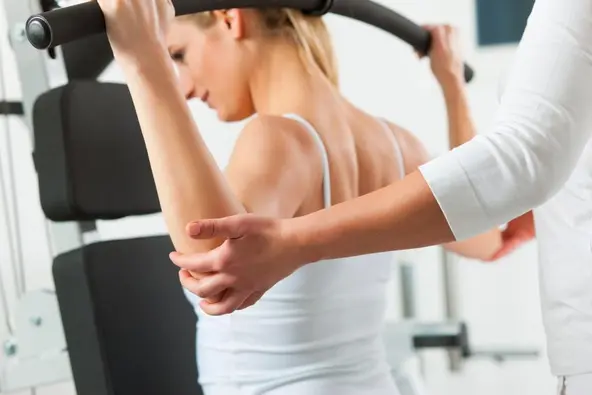 Rowland Heights Physical Therapy & Rehabilitation
Your Rowland Heights physical therapy sessions are geared towards improving your strength and mobility so that you can continue your active lifestyle. Our physical therapist understands that when you get injured your muscles weaken, and you lose the flexibility and range of motion in your joints. This can hinder your ability to perform daily tasks, and depending on the severity of your injury, you may even find it difficult to get out of bed in the morning.
Our physical therapy sessions are comprised of exercises that target specific muscles and muscle groups in order to improve endurance and strength. You will also be shown how to properly stretch in order to regain your flexibility. The goals of physical therapy include helping you perform daily activities, like cleaning, cooking and grocery shopping, and improving your overall activity levels, which can help reduce arthritis symptoms and back and neck pain.
Benefits of Physical Therapy
Improved Mobility

Increased Muscle Strength

Improved Range of Motion

Lower Levels of Pain

Better Recovery Outcomes

Does not Interfere with Other Treatments or Medications
Corrective Exercises with our Diamond Bar, Walnut and Rowland Heights Physical Therapist
Our Diamond Bar, Walnut and Rowland Heights physical therapist will work with you to achieve your health and wellness goals. Each session starts with a series of questions about your health and any pain or mobility difficulties you may be experiencing. Once our physical therapist understands your injuries, concerns and health goals, a set of custom exercises will be demonstrated to you, and you will be asked to perform the exercises and stretches in our office with help from our physical therapist.
At the end of each rehabilitation session, you will be given sheets that explain the exercises and stretches and asked to continue performing the exercises at home. This will help decrease your recovery time and give you faster results.
Physical therapy exercises can also be combined with our other treatments, especially chiropractic adjustments, which helps maximize the range of motion of your joints, and massage therapy. In fact, you may want to schedule a massage therapy after your physical therapy appointment in order to help your muscles release lactic acid and to reduce your post-workout muscle recovery time.
Contact Us for Rowland Heights Physical Therapy!
To schedule an appointment to see if Rowland Heights physical therapy would help you heal and lower your pain, contact us today or call our Fairway rehab clinic. We are currently offering free initial consultations for all new patients.